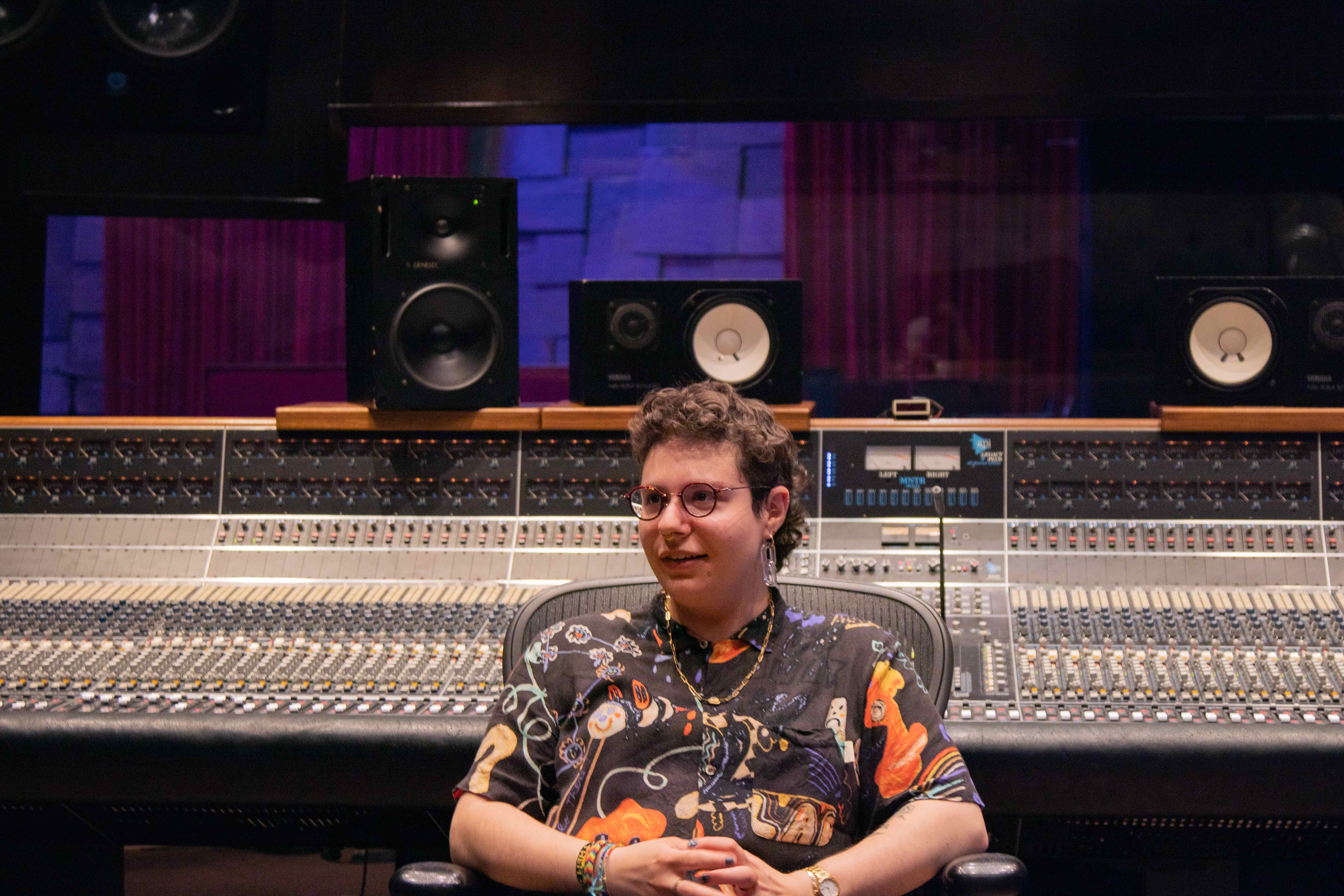 Mel Fine is an award-winning singer-songwriter and producer who fuses soulful vibes with folky acoustic pop. Their honest storytelling and captivatingly lush musical delivery make Mel a standout.
Originally from Sharon, MA, Mel grew up singing jazz standards and admiring Etta James' soulful vocals. Later, they fell in love with the storytelling lyrical stylings of folk singer-songwriters like Joni Mitchell, while being obsessed with pop musicians such as Ed Sheeran and Sam Smith. In their music, Mel pairs a soulful vocal approach with vivid folk-inspired lyrics in their catchy and dynamic pop tunes.   
Mel's parents joke that they came out of the womb singing. At 6 months old, Mel would sing every time anyone got their bottle out of the fridge; they haven't stopped singing since. At 7, Mel began writing little tunes about anything they could think of. From ages 12 to 14, Mel wrote and co-produced an album, of which the title song placed 43rd on the iTunes Top 100 New Pop Release Charts. As they got older, Mel used songwriting as a form of therapy as they navigated the challenges of growing up a quirky and queer kid. At 14, Mel began to gig around New England and recorded their second album by 17. Now 22, Mel uses their music to discuss gender identity, mental health, loss, growing up, and love. 
Mel's goal is to create music for the feelings that are hard to put into words—they use music as an emotional vessel, and hope to help listeners feel less alone. While Mel writes from a queer perspective, they strive to show that emotions can be universal—Mel Fine's music is for anyone and everyone.
Mel has played over 100 stages, including the Middle East, Berkshire Pride, the Red Room, and many more. In 2021, Mel shared the stage with Ru Paul's Drag Race alum Nina West, Roxanne Gay, and Dr. Anthony Fauci at Fenway Health's 50th Anniversary Gala. For consideration for the 64th Grammy Awards, Mel's up-and-coming presence continues to grow. They were awarded the 2021 Performance Division Voice Award by the Berklee College of Music Voice Department. Mel was also granted second place in Berklee's Songs For Social Change contest with their single, "In Between," a raw and heartfelt tale of their experience growing up non-binary. 
Currently, Mel is a scholarship student at Berklee College of Music where they double major in songwriting and music production and engineering. Active in Berklee's songwriting scene, Mel recently hosted the 2022 Songs For Social Change Showcase, and acted as the Co-President of the Songwriters Club from 2019 to 2021. Mel also works for hire as a freelance producer, topliner, and demo vocalist.
Mel can be found at @melfinemusic on all social media.